Neil Pryde Nazare
2015 Neil Pryde Nazare Aero Road Bike
All Carbon Fiber Frame and Fork
Designed in collaboration with BMW
VERY Fast Bike!
Great reviews online...
Shimano Ultegra 6800 Components
Size Large
Synchros Wheels with Brand New Tires
Great Condition

Call/Text Robert @ 813-545-6049<br><br>

***I also have a Medium available if this one is too big...***

NAZARÉ design reflects the balance between elegant engineering and insane speed. It draws on NEILPRYDE's 40 years of experience working with the wind and 25 years of carbon fiber expertise. BMW Group DesignworksUSA's computational fluid dynamics analysis and NEILPRYDE's optimized tube profile techniques combined to minimise drag while maintaining stiffness and the assured handling you expect from a prolevel race bike. Wider tube profiles have been incorporated to delay flow separation and maintain torsional rigidity. The unique down tube changes shape to manage both laminar and turbulent airflow, and the extended Kamm-tail creates an aerodynamic, lightweight and stiff bottom bracket. The optional 78°sl TT/Tri seat post transforms the NAZARÉ from a traditional road geometry to a triathlon or time trial specific set up. Perfect, if you're looking for one bike that can do it all.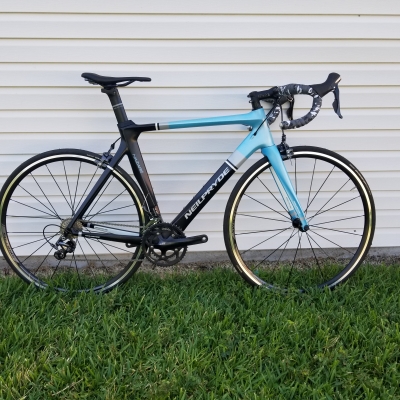 Ask a question about this product:
Questions are sent directly to the shop owner and are never published on this website. You will receive a reply via email.
---